lonita
Nov 13
Spectacle
I had this conversation once, with a lady who crapped on me for commenting on her personal life; or, rather, commenting on how public she was being about her personal life with her loud phone conversations in the workplace, and open discussions of personal detail.
I see it like this: If you make something public, in any way, online or off, then you invite the possibility of comment and opinion - which includes agreement, disagreement, or people telling you to keep it behind closed doors where it belongs. If you're public, people have the right to call you out, and you don't have the right to shit on them for doing what you invite them to do. It's like performing on stage then shitting on the audience for applauding your performance, or throwing a rotten tomato. Advertising exists to get a reaction out of people. If you advertise your life, then you do so to get a reaction out of people - you can't choose what kind of reaction you get. If you're controlling the reactions you get, then you have lackeys, not friends.
Be public, by all means; no one's suggesting you shouldn't. But, if you do, accept the consequences like a mensch, take it on the chin and move on.
Oct 27
The Red Menace: Anti-Communist Propaganda of the Cold War -
Although they're all quite delightful, I think I like this one best:
Oct 22
Ice cream flavours I'd like to see:
Southern Comfort
Drambuie
Banana Daiquiri
Tequila Sunrise
Tom Collins
Long Island Iced Tea
Mojito
Screwdriver
Cherry Whiskey
Manhattan
Ruby port
Cosmopolitan (made with lime vodka)
Still working on the list. Suggestions welcome.
Oct 06
(via Millefiori | Fabian Oefner)
Sep 20
Emptyage: Generation X Doesn't Want to Hear It -
Earlier generations have weathered recessions, of course; this stall we're in has the look of something nastier. Social Security and Medicare are going to be diminished, at best. Hours worked are up even as hiring staggers along: Blood from a stone looks to be the normal order of things "going…
(Source: New York Magazine)
Aug 27
Red
Recently I've been reminded that as a child/teen, I used to have spontaneous nosebleeds - gushers. They'd happen at school. They'd happen when I slept. They were truly spectacular. They never did figure out what was causing them.

It made me think of the last time I recall having one - the first time I went to this guy's house. He's out in the livingroom of his crappy Mac student apartment skanking to Ultravox's "Sleepwalk", and I'm on the edge of his bathtub trying not to leave untoward evidence of my presence.

I prefer to think that was the reason I never heard from him again, not my charm. :)
Aug 19
The Place That Shall Not Be Named - Urban Exploration - 2013 08 18 -
I so rarely get to indulge my love of/fascination with abandoned places.
Aug 05
French Street Artist Loves Hijacking Europe's Street Signs
http://sobadsogood.com/2013/08/05/so-this-is-what-wi-fi-actually-looks-like/">
See the rest.
It makes me want to get my street chalk and graffiti marker out…
May 27
Welcome to the world - first Falcon of 2013 at Hamilton's Sheraton Hotel falcon nest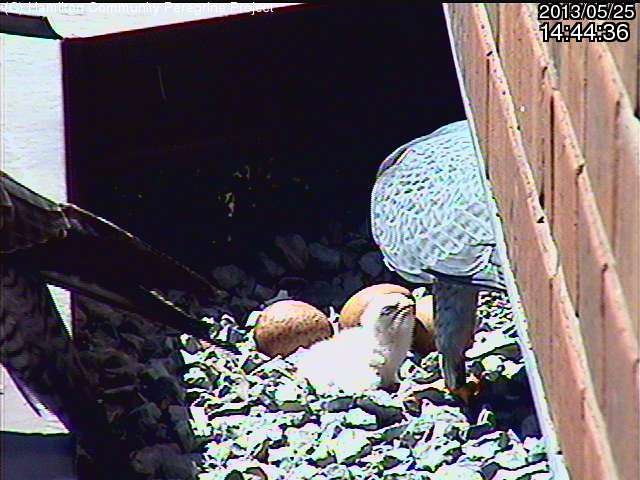 May 26
11 Foods That Unexpectedly Contain Marmite -
Now, I've never had Marmite, but I've had Vegemite, so I can appreciate how some of these things might taste - and it's a kind of trainwreck thing. I shouldn't look. I shouldn't be curious. But…